Published on
This Week at the Crumb Club - March 19th, 2023
Authors

Name

BallisticToaster

Twitter
This week at the Crumb Club, we're moving fast and breaking things with exactly the kind of pace you'd expect from yours truly:

This week was more laidback state of affairs, starting with a playthrough of A Way Out with CyberGamingX1 and a brief Destiny 2 stream in memory of the late Lance Reddick. For those who were able to attend any of these streams, I wanted to take the time to say thank you. Whether you lurked, chatted, or passed by, it's always great to see you. Especially because...
Wait, there's how many of you?!
There's now two hundred of you. Well, 202 as of this writing but still; this dumb little channel started during the early phases of the pandemic back when I streamed Tetris Effect in May of 2020 but it only really started picking up momentum in earnest since June of last year, culminating in becoming an affiliate in August. It's been a wild ride with many games played, friends made, and shenanigans had, all while it's been supported by the most wholesome community anyone could hope to have. From the bottom of my heart, thank you. The best is yet to crumb.
We're currently rounding off the first phase of a stream refresh to bring you more of that crumby goodness in a more refined and engaging package with greater flexibility for more exciting projects down the line. Here's a brief TL;DR of the things that have changed since last week in the form of a handy-dandy changelog:
(the one with better overlays.)
BallisticToaster's Streaming Setup v1.5.1
General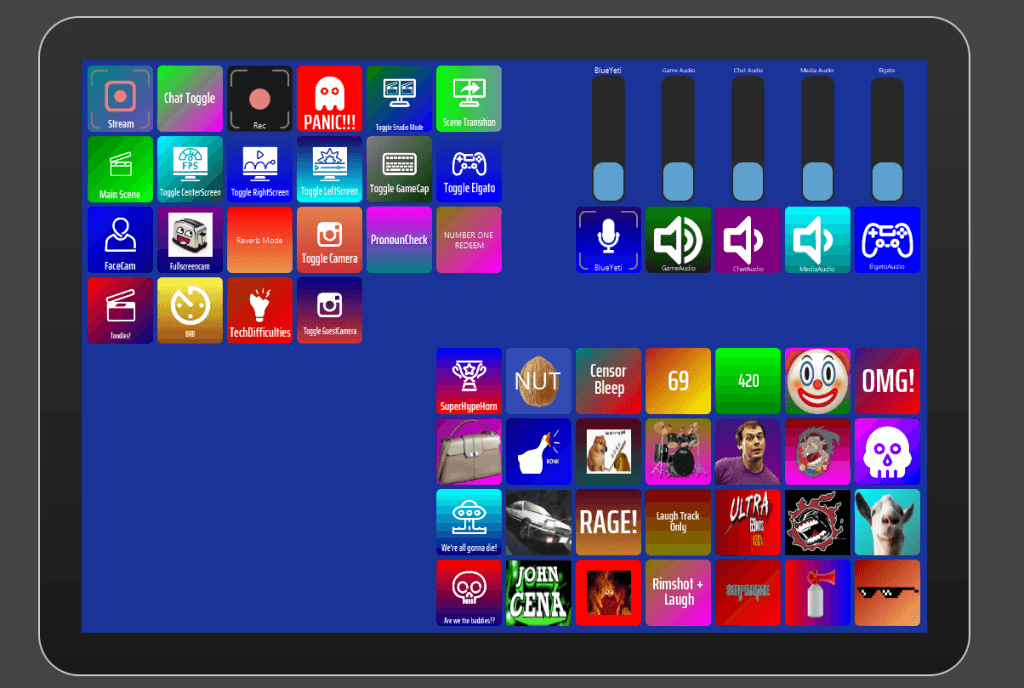 Aligned and resized all text and sources to match each other across all scenes to ensure visual constancy.

Changed all on-screen fonts in text, sources, and overlays to match the main font used across the entirety of stream.

Century Gothic Bold, in this case.

Reduced fade in and fade out times for transitioning scenes and sources.

Various audio adjustments to microphone, chat audio, and text to speech for better mixing and auditory clarity.

Fixed an issue where TTS would be inaudible. Gain was added to better match streamer microphone audio levels.

Should now result in less inaudible TTS redeems.

New meme scenes added.

"We're all gonna die!"

"Are we the baddies?"

"OH MY GOOOOOSH!" (audio only)

Clown Show

Censor bleep (audio only)

Added several new overlays:

Added a new Event List browser source that rotates through the last Subscriber, follower, gift sub, raid, donation, and cheer.
Added a new "Guest" window capture source that captures the window of a Discord call in the event of a guest's video feed needing to be captured.

Available in FullscreenCam, Intermission, and MainDisplay scenes.

Added a redesigned chat overlay that can handle up to six messages.

Available in FullscreenCam and Intermission scenes.

Added a new AlertBox designed in StreamElements

Added TTS to Subs, Cheers, and Donations (Text to Speech) for the AlertBox.

Adjusted color grading of B-Roll footage to be slightly warmer and brighter.

Results should be more cozy!

Added modified and resized Display capture sources to Facecam and FullScreenCam Sources.

Created new color-pallet for text across AlertBox and Event List Overlay.

Highlighted text (IE: Names in the Alertbox or number of subs in the Event List) will use a bread-themed hexadecimal color code. (#EFD2A8)

This change also affects the color of my name in chat.
Starting Soon: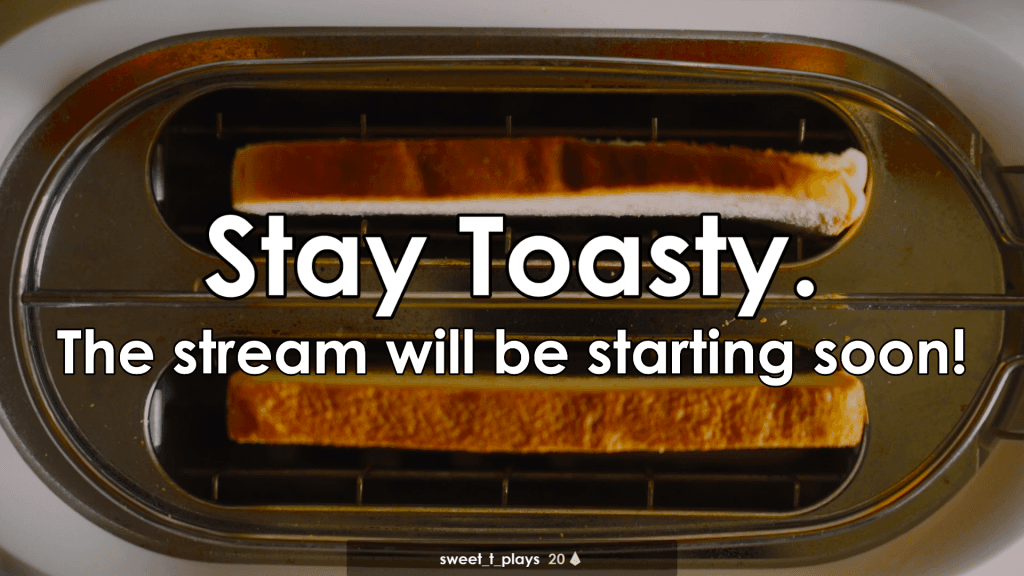 New b-roll footage added.
Intermission (Formerly "Facecam")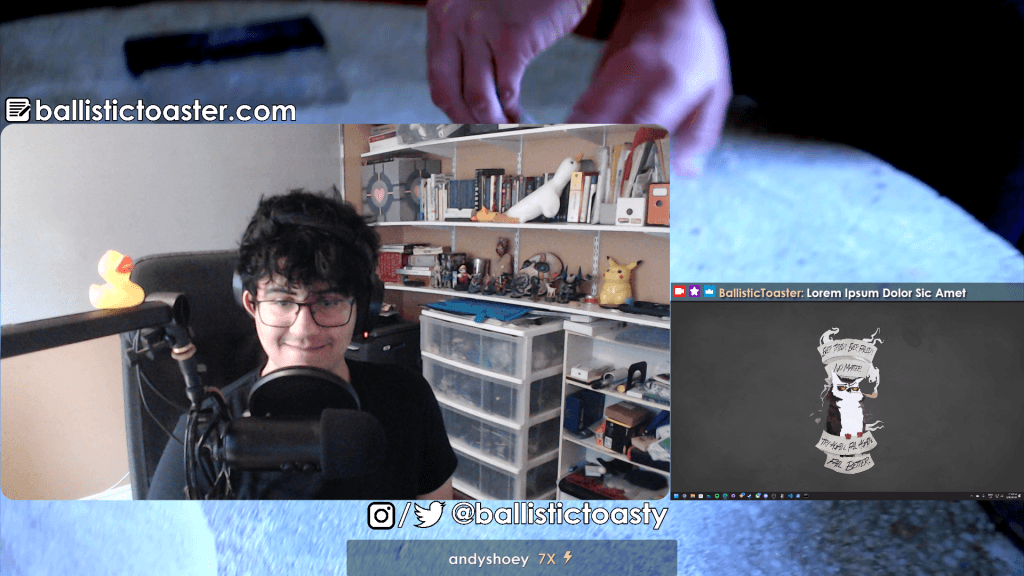 Completely revamped and renamed Facecam scene to Intermission, now allowing for additional sources on-screen, such as display capture sources, a guest camera, and more.

When display captures are deactivated, a picture of Toasty McToasterson (the BallisticToaster avatar) will instead be displayed with plumes of smoke directly below...

A new and improved chat source that displays six messages at a time designed in Stream Elements that resides next to...

A resized and repositioned main camera source for greater visual prominence.

Added text sources for socials and blog links above and below the camera source.

Removed "BallisticToaster" text.
FullscreenCam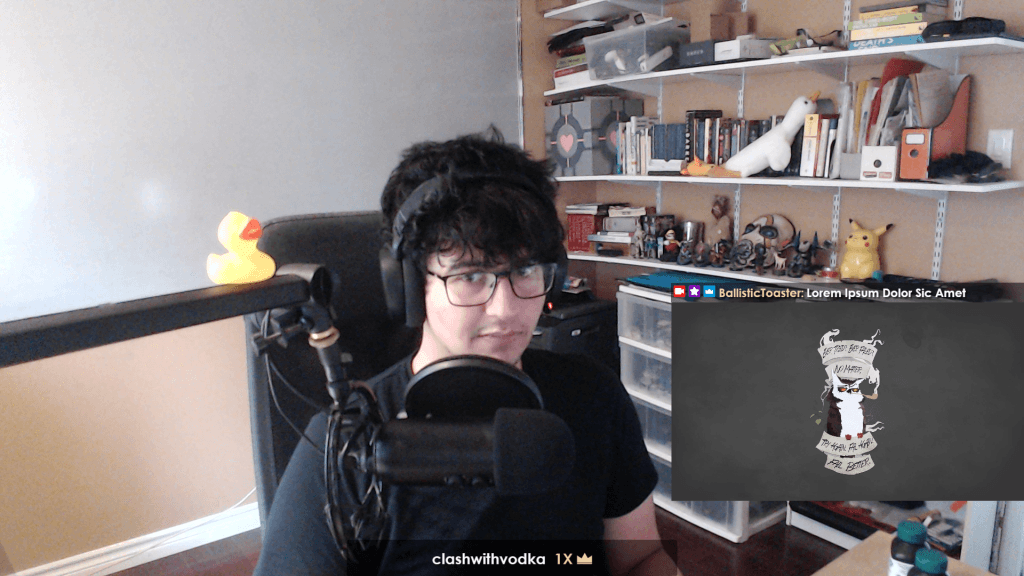 Added chat overlay back using same positioning and sizing found in the Facecam/Intermission scene.

Resized Display captures and guest camera sources and repositioned them to match Facecam/Intermission scene.
MainDisplay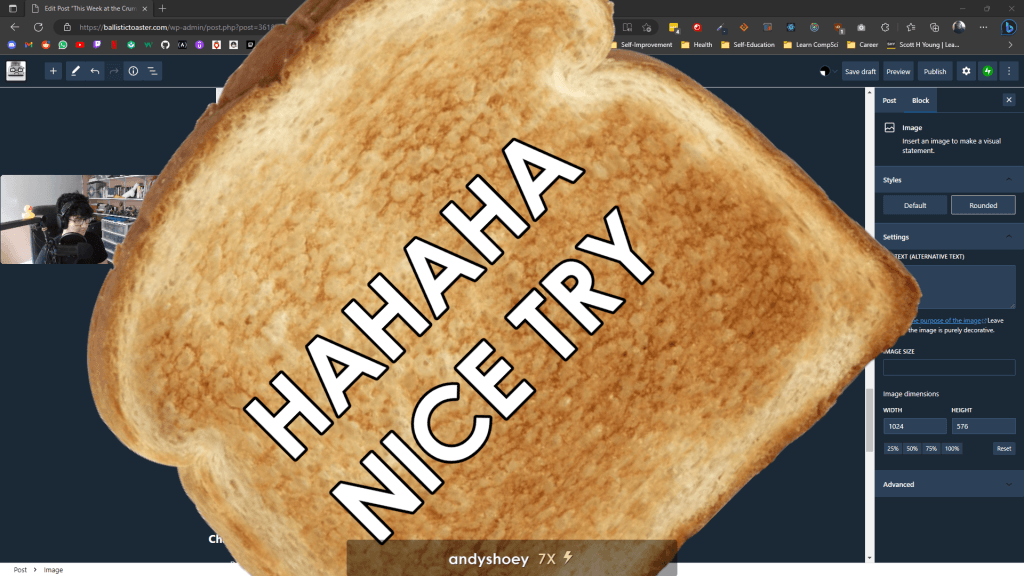 Repositioned camera source to be smaller so as to not cut into display elements.

Added Guest camera source to be the same size as the streamer camera source.

Added support for Words on Stream and StreamRaiders.

Added "ToastConcealer" source to protect against stream sniping.

And potential ToS violations, but who's thinking about that?
Chat/Redeems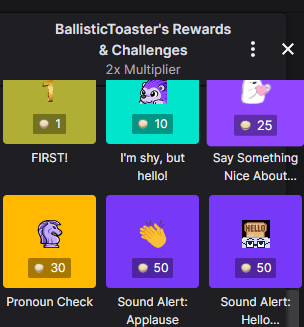 Removed Horatio Meme redeem.

Reduced cost of "FIRST!" to merely one crumb.

Because why fix the price of bread when you can reduce it for everyone? Let them eat toast!

Removed "Add a Command" redeem.

Added 'Shy But Hi' redeem for 10 crumbs.

Added "Pronoun Check" redeem for 30 crumbs.

Reduced price of "HONK!" source to 200 crumbs.

Added HypeHorn meme redeem for 300 points.

Added "SUPER HYPEHORN!" meme redeem for 3,000 crumbs. (To be activated when FIRST! meme redeem scene changes in April.)

Adjusted timer message intervals.

Added '!pronouns' command to invoke a link to Pronouns by Alejo and the relevant instructions.

Edited text of "Hydrate/Stretch/Posture Check" redeem.

New chat timer messages added for redeems, BTTV, commands, and pronouns by Alejo.

More emotes are coming.
Known Issues and Expected Changes
Issue #1: When the guest camera and streamer camera sources are active in the MainDisplay scene, it blocks out a significant portion of the screen.

A branch of the MainDisplay scene is currently in development that will allow for multiple participants in the same scene without blocking much of the game.

We're also testing out different sizes and positioning on the MainDisplay scene to see what's the most optimal sizing for camera sources relative to the game being streamed and any additional overlays. (shoutouts, event list, etc.)

Issue #2: We're currently reaching the limit with what's capable for stream audio with only two audio sources that have to juggle the game, monitoring alerts, chat audio, multimedia audio, and more.

To address this, virtual audio cables via SteelSeries Sonar will be added as adjustments to audio mixing are made.

Issue #3: More frequent technical issues, especially with games that crash upon startup, stream tools not working, dropped frames, etc.

A more thorough pass will be instated on games before they are streamed by playing through the first few levels and catching any technical issues.

This does not rule out the possibility of glitches, crashes, etc. from occurring mid-stream but as long as it prevents a Bioshock-type situation from happening again, it'll be worth it if I don't have to stream from the beginning of the game all over again.
Next week, we'll discuss more about changes you can expect to see outside of stream from the Bread Box Discord server, social media channels, and this very space, but it's time to conclude by saying...
Ramadan Kareem!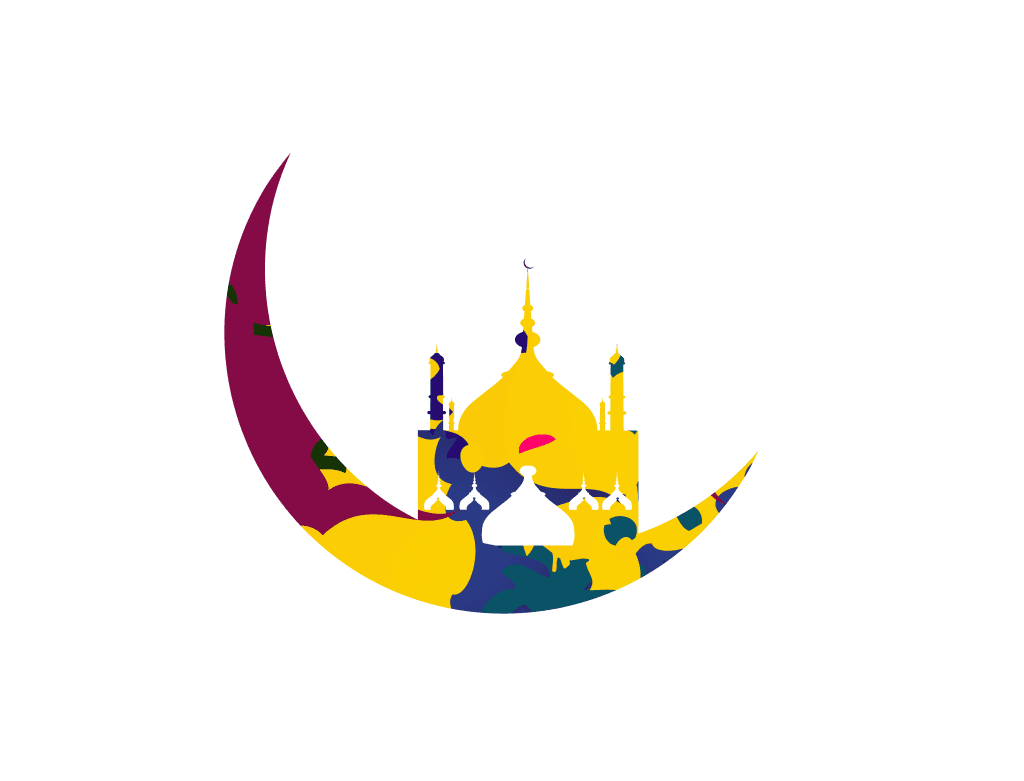 With the week ahead comes the arrival of the holy month of Ramadan on March 23rd. To those who celebrate, we hope you have a safe and blessed month ahead with friends, family, and loved ones.
As an observer of this holiday myself, I'll be changing much of my schedule to better adjust to the next 30 days and with travel plans ahead (that are yet to be finalized...) this will also greatly affect the frequency of streams and their timing. Streams will still continue with the same weekly goal (two-three times a week from Monday to Friday, bonus streams on Saturday and Sunday) and should any changes occur (especially time-zone related ones) you'll be the first to know. Stay tuned to our Twitter and this space for any updates that will come up and as always...
Stay Toasty!
-BallisticToaster